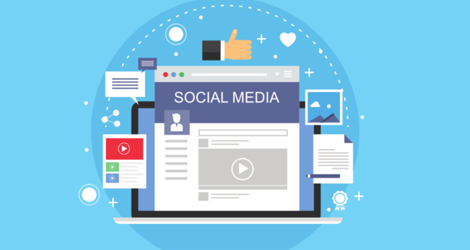 Do you know social media websites are accessed by 8 out of 10 of all Canadian Internet users?
Do you know 71% of Internet users prefer to purchase from the brand they follow on social networking sites?
With these questions, you probably have got an idea why it is important to have the votes of trust from social media websites.
Social Media Marketing (SMM) is progressing with each passing day, becoming a powerful web marketing tool for companies and brands. Social media platforms like, Facebook, Twitter, LinkedIn and Google+ can significantly enhance your online presence. Even the search engines have recognized the importance of social interaction as Google and Bing have started integrating updates, Tweets and comments into search engine results page. Businesses need to improvise their marketing campaigns to stay one step ahead of their competition.
An Overview of All Social Media Services
We, at WebDzinz, have extensive experience with SMM and know how to effectively develop and implement social media marketing for your company and brand across Oshawa. We have the resources you need to figure out SOCIAL MEDIA. We are a focused and experienced social media marketing agency that will manage all your social channels, social advertising and digital marketing needs.
Social Media Marketing – Areas of Specialty
Top Platforms: Facebook ,Google+, Twitter, LinkedIn, Pinterest, YouTube
Set up: Evaluation of platform and identification of target audience, profile setup and optimization, encourage customers to review and share
Strategy: Attention-grabbing content creation, visitor engagement, key messages
Execution: Ongoing management and monitoring, enticing online contacts, SEO copywriting / blogging
Social Media Marketing and Your Business
Whether your business is B2B or B2C, social media strategies can help spread the word about your brand. We will not only make people aware about your services, but will also manage your social media accounts, update content and monitor the status of the campaign, leaving you free to focus on your business.
Social SEO Expertise
Our in-house SEO experts know how to maintain balance between social media strategies and backlinks to drive your site traffic and rankings. Most companies specialize in social or SEO, but only few excel at both and WE are one of them.
Why Choose Our Social Media Experts?
We will:
Establish your brand and raise awareness
Drive instant valuable traffic to your website
Boost sales and maximize your ROI
Spy on the competition
Showcase your brand in a more impressive and interactive way
Increase customer loyalty and trust