Understanding the current need for an era of digitalization, especially if you want your business to prosper and flourish, an online presence is a must. Thus, businesses need a good and attractive website to lure in users and make them coming back. Most business owners might be stubborn that they do not need a website, and they are doing great with their offline sales. At the same time, most business owners can find making a website daunting.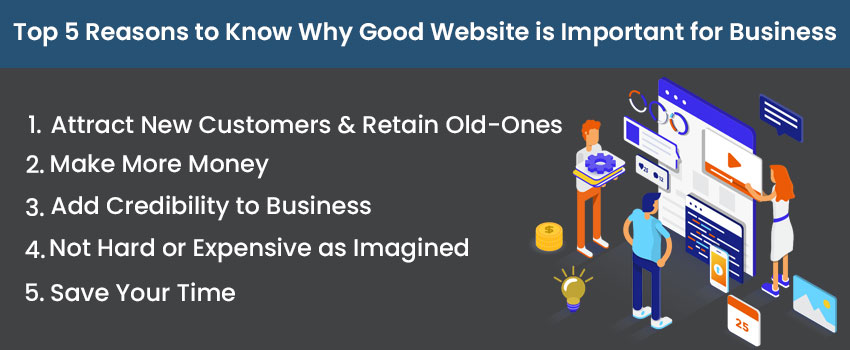 The good news is that website making is not a big deal; it does not require you to be tech-savvy or too thorough with technicalities. There are several professionals at your service who can get your work done in no time. Are you still confused about whether you should contact your own attractive and user-friendly website or not? Continue to learn more about the website and business.
Attract New Customers & Retain Old-Ones
The first thing about making a website is that it can be accessed via any customer from any corner of the world. Thus, your business will not be restricted to your regional area; instead, it will spread wide across the world. Daily more and more people will be aware of your brand and business. Thus, with an up and running website, you will be able to make new potential clients. A good looking, appealing, and user-friendly website helps attract new visitors and retain the old ones.
Make More Money
As you get introduced to new clients with a beautiful website accompanied with perfect SEO management, the sales increases. Consequently, the revenue increases, and so the profit boosts. Even when your physical store is closed, your online store is always open – for 24 hours a day, 365 days a year. Websites can also help you compete with your competitors in the market and get you the first hand.
Add Credibility to Business
As the world is almost digitized, it is important o have a social presence. Thus, an attractive website helps in building that trust among the people. In this 21st century, people are skeptical about trusting brands in one go. Therefore, a useful and user-friendly website helps in building credibility for your business. A website shows that the company and brand is an expert in what they do, and it also helps in attaining a good position in the related market.
Not Hard or Expensive as Imagined
Building a website is not as difficult or expensive as one imagines it to be. Several website development companies are there to understand and make this website making the process easier and hassle-free for you. Moreover, with a perfect looking and navigating website, your business can earn a better return on investment (ROI). Are you planning for a company? Think of making a website as your priority.
Save Your Time
Are you having trouble maintaining clientele? Ou can get rid of this hassle within a few clicks or a little help from the professionals. Whether we talk about emails exchanging calls, sharing updates, sending out proposals, or even enhancing brand engagement, the website is a perfect way. Ensure it is easily navigable by the visitor to sustain old clients and attract new clients from different corners of the world.
Conclusion
Are you looking for a professional to handle your website development or designing services? Then, WebDzinz is the perfect platform for you to avail the best and supportive website development. Contact them today or visit their website to know more about their services and have a word with the professionals about your business and websites.
Communicating with potential customers becomes more comfortable with an appropriate and attractive website. Thus, we can now infer that every business needs a website in this digitized world. Moreover, the entry is minimal and inexpensive while offering a massive opportunity to proper.