Today more 35% of the total world's website is powered by WordPress and as you are reading this the number is still increasing. WordPress is a secure site and as soon as any bugs any problem is spotted the next thing you know is that you've got an update and it is being fixed. But enough after this tight security sites powered by WordPress can be hacked though through 3rd party but it can be. And in today's world web security is as important as your house's security.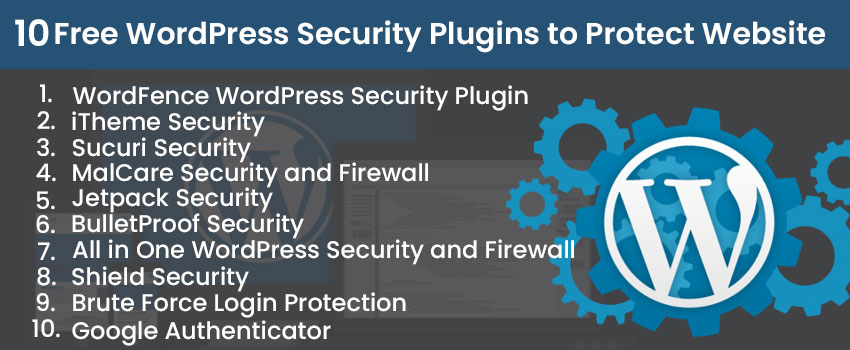 But along with the many benefits that WordPress provides the very critical and useful thing that WordPress allows is the plugins. And to keep your website more secure you can use free plugins that will keep your WordPress safe. Webdzinz company also provides security for your website powered by WordPress but at a very depth.
Plugins for WordPress Security to Protect Website
WordFence WordPress Security Plugin: amongst the free WordPress Security plugins this one is one of the most used by the websites. It is regularly updated and quite a powerful plugin which provides excellent security for your website which is powered by WordPress. It provides some features like WordPress Firewall, Blocking features, login Security, etc.
iTheme Security: Interestingly this free plugin provides its website more than 30 different ways to protect the WordPress powered site. With an easy 1 click installation, it works great for beginners and both experts. Its features are also unique like it helps the user in picking up a stronger password or stops automated attacks, etc.
Sucuri Security: many WordPress and Website security industries are familiar with this security. It is one of the best in monitoring and scanning tools for WordPress. It along with additional security functions like monitoring, etc. it strengthens the overall Security.
MalCare Security and Firewall: as the name of this security suggests it is a firewall and a security plugin both. Also, this provides automatic malware scans regularly daily.
Jetpack Security: This is one of the most popular free security plugins for WordPress. The install numbers are quite impressive of more than 5 million active installs. Its Alert system via email and site backup with 1 click restore is simply amazing.
BulletProof Security: This WordPress Security plugin is free and provides the best basic security required for WordPress. More easily set up to malware scanning and firewall; it also proves login protection and database backups along with many other basic security options.
All in One WordPress Security and Firewall: This is one of the free plugin security which is preferred and highly recommended for the beginners by the WordPress Website Oshawa. It has quite an impressive interface with many powerful security options.
Shield Security: Another high rated WordPress Security plugin for the protection of your WordPress Powered Website. It protects from Brute-force attacks by bots, detection of malicious files, etc.
Brute Force Login Protection: This Plugin provides excellent security from the Brute Force login done by the bots along with tracking their IP, etc.
Google Authenticator: This free security plugin is provided by Google. It adds an extra layer of security to the logins and has a very simple and user-friendly interface and allows you a two-factor authentication which can be excellent. It also supports security for the keys plugged for the USB port.
Apart from these 10 free Plugins, there are several others and it is preferred by many. Though knowing your needs can help you find good security provided by your WordPress powered website. WordPress Development Oshawa also provides you with security along with developing. So next time you look for protection for your website look for your needs and these 10 can usually give the best free security for your WordPress site. So worry not and securely enjoy the WordPress site.